CMS Best hardware and networking institute in malappuram - Malappuram
Friday, 19 April 2013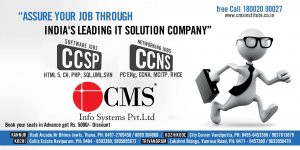 Contacts

Subin Thomas

9037450006
Item description
CMS Info Systems
Founded in 1976, CMS Computers Ltd started as a computer maintenance and services company. Post hiving off CMS Info Systems as a new entity, CMS Computers focused on ERP solutions, traffic management, E-Governance and Security solutions. Operating from fifteen locations, CMS supports over 200 customers nationally. CMS Computers has three R&D centres located at Pune, Mumbai and Thiruvanthapuram with over 200 personnel involved in Research and Development developing custom products such as EDM, Kiosk and Security. CMS is also actively engaged in Software development and export to Europe and U.S.A. through its fully owned subsidiary SYSTIME with two development Centres in Mumbai, Pune & Chennai staffed by over 400 professionals.
CMS Info Systems is a leading IT & outsourced business services provider with extensive reach across India. CMS Info Systems offers a wide bouquet of services across the value chain, focusing on Retail Banks, Insurance, Telecom, Retail, PSU and Government segments. They have a strong client base in multiple industries with over 700 large customers. These customers are supported by 21,000+ team members, spread across 100 offices in India.
CMS offerings span application services, systems integration, IT infrastructure management, IT training businesses with market leadership in outsourced cash logistics, transaction printing, card personalization and self service solutions businesses. CMS is currently in the process of leveraging its enormous scale and wide reach to expand its offerings of high value and innovative end-to-end solutions in the IT and outsourced business segments.
Click here to know more about CMS InfoSystems
Investors
Blackstone Capital Partners
CMS Info Systems has partnered with The Blackstone Group for its capital requirements. The Blackstone Group is a New York headquartered leading global investment and advisory firm. The firm has closed more than 130 private equity transactions globally with a cumulative equity commitment of more than $30 billion and holds an impressive track record of creating value in each of its investments. The Blackstone Group is one of the world's largest Private Equity firm and provider of financial advisory services listed on the New York Stock Exchange with total assets under management of $98.1 billion at March 31, 2010. Blackstone is assisting CMS along various dimensions including business development to build a high-growth, sustainable and valuable company.
CMS Certified Network Specialist (CCNS Expert
If you are looking at a serious career in IT with a focus on system or network administration, then CMS Certified Networking Specialist (CCNS) is the training program to opt for. The CCNS program helps you master almost everything from the elementary to the emerging in hardware, networking, wireless, security & cloud technology.
The 500 hour CCNS Expert program also provides successful candidates an opportunity for On-Job-Training at premier computer maintenance & networking sites spread across the country. As part of On-Job-Training, the candidate is exposed to live implementation of technology at small, medium or large computing enterprises including banks, financial institutions, energy companies & defence organizations. CCNS helps you master networking technology live much before your first real job in the field of networking. More than 10,000 students join this program every year.
While the incumbent masters the nuances of assembling PCs & troubleshooting the machine & its associated peripherals with PC Engineering, they go further ahead & learns complete internetworking with routers & switches from Cisco. They further learn Windows 8 as a desktop administration operating system leading to Microsoft Certified Solutions Associate certification from Microsoft. The story does not end there on the Microsoft front, as the candidate learns server management, network infrastructure & active Directory Services – leading to Microsoft Certified Solutions Associate certification (MCSA
The Microsoft Exchange Server 2010 module enables to student to go for the Microsoft Certified Technology Specialist certification on Mailing Technology.
•That's not all, the incumbent now looks at learning the technology from the kings of the networking virtualization & cloud space – Red Hat in the form of the two levels of certification Red Hat Certified System Administrator, Red Hat Certified Engineer.
•A complete module on Virtualization and Cloud Computing follows strengthening the candidate's hands-o knowledge on data & virtualization. The Ethical Hacking sub-module effectively trains the student on all three crucial aspects of security administration Software Security, Operating System Security and Network Security. The candidate is flavored with live knowledge of the Network Operating Centre's functionality thus exposing the candidate to Remote Infrastructure Management thus rounding of the most perfect training on Information Technology – Hardware, Networking, ITIL, Security & Cloud in form of a career program spanning between four to twelve months for HSC, Graduates & engineers.
Advantages:
1."Self Paced Learning" - you can complete this career program in less than 6 months focused on Hardware, Networking, ITIL, Security & Cloud.
2.Learn official Microsoft & Red Hat curriculum with official books.
3.Prepare for globally acceptable technology certifications - CCNA, MCSA, ITIL, RHCSA & RHCE
4.Learn how to deploy with Remote Infrastructure Management technology in a Network Operating Centre (NOC) environment.
5.Learn about "Cloud" technology through Virtualization technology & Ethical Hacking
6.Learn about data & network security, ethical hacking through a comprehensive Information Security module.
7.Get free global certification examination attempt from Microsoft & Red Hat, subject to fee payment pattern.
8.Get discounts on other globally acceptable certification examination attempts from Microsoft , Red Hat, ITIL.
9.Get access to 3,600 IT Services job openings in CMS Info Systems Pvt. Ltd.
10.Get On Job Training with stipend on successful course completion.
11.Gets Free Tablet PC along with the CCNS Expert Program.
12.Eligible for Redhat & Microsoft participation certificate.